Happy and contented customers are the base of a successful business. While different businesses belong to different industries, this does not change the fact that customer satisfaction is their main target. When the end-customers are satisfied with your business, they tend to come back and even recommend your products and services to other people out there. However, while running businesses and generating sales, many companies struggle with this specific problem.
Growing businesses target more customers but they often fail to handle their existing ones and this creates chaos. A CRM (Customer Relationship Management) is an ideal solution for this problem. It allows you to appreciate your relationship with the customer and handle it in a proper manner. The application of a CRM in any business can help in many different ways as it acts as a support tool for multiple departments including sales, marketing, and customer support.
Since businesses place a constant focus on their sales departments in order to generate more leads, here we will define how a CRM system can help them improve sales.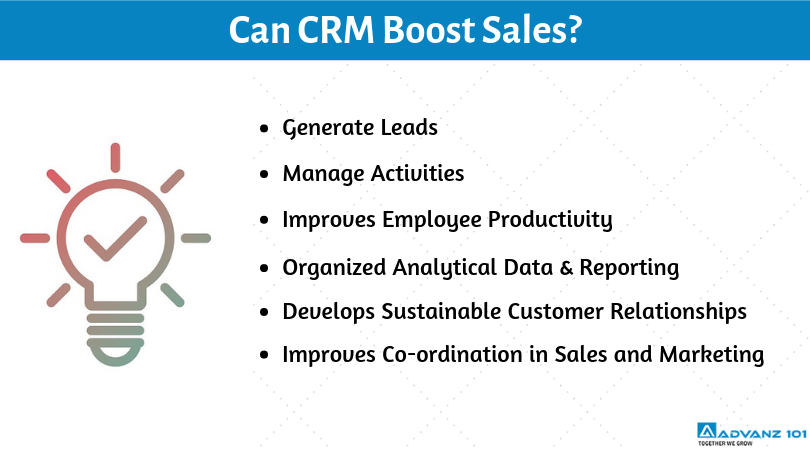 Lead generation a.k.a. getting qualified business leads is the need of the hour for businesses. In addition, a CRM system, if used correctly, can help you achieve this easily. An effective CRM can help you with lead generation by offering a wide number of functionalities for affordable pricing.
It allows you to nurture your leads better and develop long-lasting relationships with them via regular interaction and observation of a customer cycle. You can track the journey of a customer through a CRM system and identify what is missing on your end. By doing this, you will be able to cater to their requirements in a more efficient manner.
2. Develop Sustainable Relationships
You can understand your customer's business in a much better way by operating through a CRM. A customer relationship management system provides you with a complete overview of a customer's history with your company. By checking the journey and experience of the customer on each stage, you can provide assistance wherever needed.
By doing this, your customers can get a personalized experience and they will appreciate your quality of service. Your relationship with your existing customers defines how your business will progress in the end and therefore, in order to nurture these relationships, you must make an effort to build mutual trust. You can explore the problems that your customers are facing and you can find their goals and preference choices. Once you have an overall understanding of your buyer's choices, it will be much easier for you to follow up with them on time and take the right actions.
3. Improve Employee Productivity
A sales manager understands the importance of having a CRM system, however, when it comes to sales employees and teams, the value of a CRM system is often underestimated as they focus on how their tasks are being increased by filling forms and sheets. The important thing here is to make the sales executives understand the value of the system and that can only be done once they find the right value in it.
A CRM system allows the sales team to free their time and dedicate in important activities rather than working on collecting data and checking old emails. Sales executives can make use of certain processes that can be automated easily like entering data and searching for contact information etc. This way, the employees will get more time to interact with their existing and potential clients and keep the business progressive.
CRM systems are filled with different types of features one of which is activity management. It allows you to make the life of your sales reps easier by tracking their activities. These include completed and schedules activities in a log. Executives can keep track of any possibility of a missing opportunity and utilize it on time.
Be it scheduled calls, meetings, tasks, processes, etc., a relevant CRM can provide a comprehensive view of the system and allows the executives to find all the details in their ongoing communication. With this, the chances of them getting distracted are reduced and no activities are left without notice. Planning and managing activity through a CRM allows sales professionals to prioritize their tasks and get notified at the right time.
5. Unity between Sales & Marketing
Often companies struggle with keeping their sales and marketing teams to work together smoothly. Although both the teams work towards bringing more customers on board, sometimes issues are created when they are not aligned. This can happen due to multiple reasons such as lack of communication, irregular update sharing, etc. Placing a CRM system in place between the sales and marketing team reduces the friction and improves the unity between the sales and marketing teams.
Moreover, since both the teams deal with customer satisfaction, it is important for them to maintain a healthy relationship with each other as well as the end customers. An excellent CRM system allows the sales and marketing teams to grow, stay updated and provide access to real-time data related to the customer. As the automation features of a CRM allow the sales team to work on important tasks rather than gathering data, the marketing team is benefited by the automation factor too. They can simply make use of a CRM to pass of qualified leads to the sales team without having to deal with the process of emails and manual processes.
6. Organized Analytical Data and Reporting
Analysis of data allows you to understand the details of your business and the direction in which it is progressing. However, as a business grows, different people in the team accumulate more and more data over time. This data is often scattered and is typical to deal with when you search for information out of it. The fact that data is important is undeniable but it is also important to take this data, process it and create valuable information out of it which can be used for further growth of the business.
A CRM system allows you to store all this information in one place and provides analytical capabilities for efficient use of it. It can also be integrated with different tools and plugins thus, giving it the ability to generate automatic reports from time to time. Moreover, the information stored in the CRM system can also be personalized and can be categorized as per your needs. This will help your teams to find customer information easily and set sales goals accordingly.
CRM Can Improve Your Sales by 30%
While CRM has its use cases defined for different departments of a business, it can primarily be called as a sales tool. Purchasing and implementing a CRM in the right manner will lead you to grow your business with time. While applying CRM for your internal processes, it is also crucial for your teams to understand the concept and value it.
If your sales staff does not accept the system, it will be difficult to reap the benefits out of it. Therefore, before bringing a CRM system in your business environment, you must discuss it with your sales team and provide them with proper training for utilizing it. This way, they will embrace the product better which eventually will lead to business growth.