It is not wrong to quote that everybody relies on cell phones nowadays, and it has become the first thing to check in the morning. With the addiction to this marvelous technology, the usage of cell phones is only increasing. Mobile phones allow us to stay connected with everyone, no matter how far the person lives geographically. In the list of 20 most globally used app, the top five places are account by messaging apps. (Source: https://blog.sagipl.com/most-used-apps/ )
With the increased usage of messaging apps, businesses have begun to use CRM platform to connect with their customers. It helps the brand to strengthen customer-brand relationships. Also, this platform creates an immediate pipeline to communicate with the brand for any query or concern.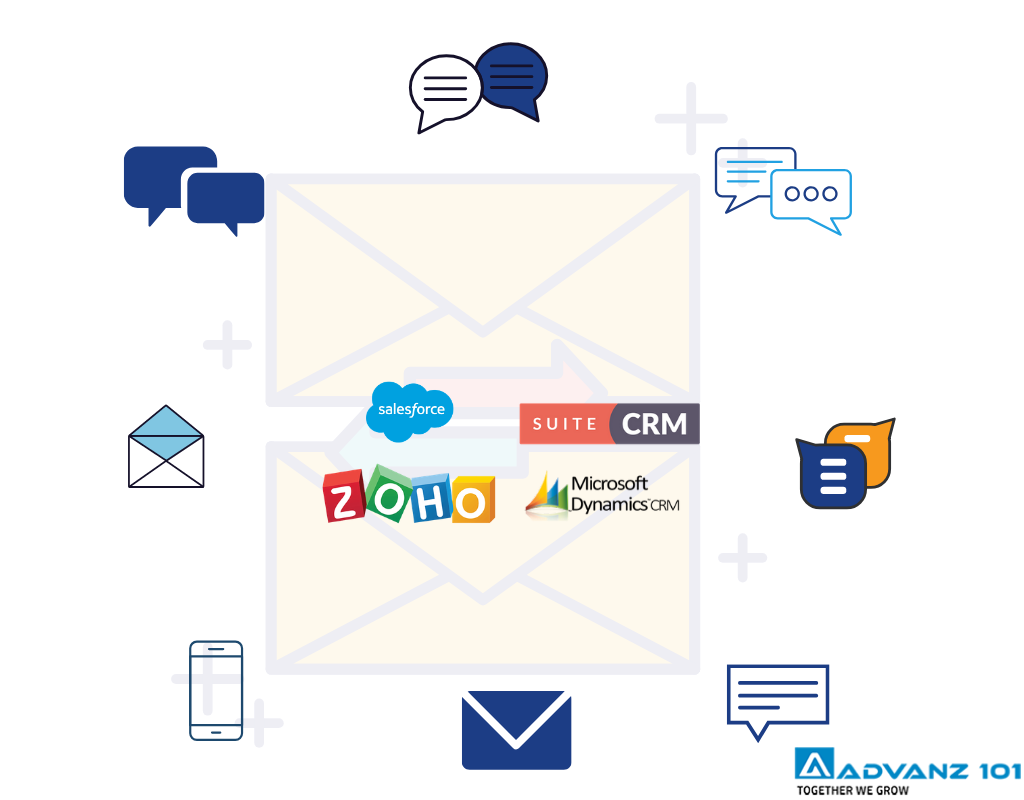 Benefits of Integrating Messaging Apps with Your CRM System
Survey reports have shown that there is seven times more possibility of conversion for businesses that follow-ups with their lead within 1st hour after receiving a query.
(Source: https://hbr.org/2011/03/the-short-life-of-online-sales-leads)
The integration of the messaging app with your existing CRM allows your support team to assist multiple customers at the same time. It provides a private platform for your customers to submit their queries or complaints. It not only curbs down the complaining post on social media but also saves the confidentiality of customer information. Integration of messaging app also provides the option to send the reminder, promotional messages to the customer, and also log the conversation details in your CRM. Studies show that about 90% of text messages are read within 3 minutes of delivery, and 99% of all text messages marked "read by the recipient".
(Source: https://mobilesquared.co.uk/wp-content/uploads/2017/12/Conversational-Advertising.pdf)
Apart from customer support, this integration also proves to be very beneficial for backend work. It allows sending messages and records the same into your CRM. The team can access the buying pattern and impact of different campaigns. It reduces the manual work of feeding the individual data into CRM. It gives a detailed view of the interaction between customer and brand, which helps every department to assist better and faster. Managers can oversee the work report of everyone as individuals and as a team. They can plan their upcoming marketing campaigns and improve their approach.
Apps That Can be Integrated with CRM System
Numerous messaging apps can integrate with your CRM and decrease the burden of maintaining customer-relation stress. Here we explore a few of the messaging apps.
Whatsapp is the most used app globally. (Source:https://blog.sagipl.com/most-used-apps/)
It is the best platform to approach the customer and also to coordinate with the team internally. It enhances the effectiveness of overall business interaction by making it real time and interactive from the customer side.
Working on different levels of customer support and maintaining the team data, customer records, and interaction; separate records can be overwhelming. Thus, to increase the efficiency of customer interaction with the brand, the CRM should connect with the contact center. Using Twilio, your team can approach the clients from different channels. They can add videos, voice, and other pre-build different templates. It is customization friendly app that allows customization of programs, call routing, agents desktop UI overview, etc.
Slack offers a platform for the team to communicate and schedule meetings internally via instant messages. Your team can exchange files and data with their colleagues from the company's hardware or cloud-based storage. It helps in streamlining the communication form for your team members so that every message is conveyed to everyone without failure.
Skype helps in providing the omni-channel support to your customer, increase first-time resolution accuracy and C-sats. It has multiple features to assist the customer or connect internally over voice calls, videos, text, and data trading. It is also cost-effective and gives a better ROI.
It is one of the most popular social platforms used by people around the globe. The integration of facebook messenger curbs down the manual work of downloading the lead and creating a separate spreadsheet for the same. It helps your team to take action on new leads on a real-time basis. Studies have shown, a prospect is 21 times more likely to become a quality lead if approached within 5 mins of receiving a query.
[Source: www.leadresponsemanagement.org/lrm_study; 2009]
This app helps in staying connected to the customer every time. It provides a quick way to communicate with the customer and assist them with their queries. It provides an API that includes features like creating a LINE official account, customization as per business requirement.
WeChat helps in keeping track of consumer behavior on social networks. It helps your team with data that includes the customer source information and activity on different campaigns. This app is beneficial in conducting surveys by using native voting functions. The report will not show the voter's profile but will give an overview of the customer's expectations.
This app is one of the most advanced messengers, which helps in providing seamless customer support. It accumulates the interaction information in one place so different agents can continue the same conversation without any interruption. Managers can set the workload allocation so that the chats can be assigned to the relevant agents, and also CRM can keep track of ongoing activity for every individual assigned case.
SnapChat can use to reach the customer to provide support, promotional campaigns, and feedbacks. It includes the report to analyze the performance of different campaigns and agents based on chat handled.
FreshChat offers to run customer support and backend work within the same dashboard. An agent can convert the FreshChat conversation into tickets whenever required. Agents can use different templates, practices, images, and emoticons to make the conversation more interactive.
Zendesk provides the platform to store all customer data in one place so you can remain collaborated and informed with every customer's history. It has various triggers to create tickets, forums, a tool to work on existing tickets, etc.
Apps Integration with Various CRMs
Integration with SuiteCRM
SuiteCRM solution provides integration with every messaging app without any hassle. Your team can use the pre-built email template for sending messages on different platforms from different modules. It helps is automating the workflow by assigning the lead to the relevant department. It helps your team to assist the customer on the various platforms using the same dashboard and save the information. It eases the further process and helps in providing the friction-less customer experience.
Integration with Salesforce
Salesforce solution always provides the platform to increase team productivity and enhance the customer experience with the brand. It is easy to customize and integrate with apps to fulfill the business requirement. It provides a different package of the app, which can be deployed with other Salesforce products.
Zoho Provides the integration with multiple apps like Zoho Desk, SalesIQ, Live Chat, Slack, Zendesk, etc. It helps in making CRM stronger, which can create a single view dashboard for every information. Your agent will not have to struggle to accumulate the data in bits and pieces from different platforms.
Integration with MS Dynamics
MS Dynamics solutions offer type integration with 12 different messaging apps like LiveChat, Beekeeper, PureCloud , etc. This app helps in providing premium customer service on a different channel, generating leads, create a follow-up, and keeping track of team productivity.
If you are ready to boost your CRM power by integrating it with different messaging apps, our experts can help you. Our industry-leading service made us the top preference of many brands for any CRM solution help. We can assist in integrating various apps with your CRM to increase revenue and efficiency. Our team provides you 24*7 support with CRM solution and also helps in customizing as per need so that you can focus on your marketing tactics.