Case study - Zoho CRM for Clinic
"Increased Patient Engagement, Transparency and Collaboration with Zoho CRM Implementation."
Zoho CRM Implementation for Skincare Clinic in Sydney
Our client is a team of the most reputed and prominent skincare specialists in Australia. The extremely talented pool of doctors provide personalized consultation to their clients and thus used excel based system to sort, access and manage patient data. Twilio integrated with Zoho CRM provided the perfect cloud based solution for improved communication between team and clients and better project visibility across the clinic.
What was the local skincare clinic Looking for?
The clinic is a full time activity zone with many skincare consulting seekers running into the clinic for a proper diagnosis & treatment. Other than the doctors & specialists, there are trained medical staff who take care of administration, billing, finance and other patient management activities. As the large volume of data is generated daily, maintaining the same by traditional approach is highly daunting and cumbrous. Thus, our client wanted to automate all processes at their clinic and wish to implement a system that is powerful, flexible, and easy to use solution, which deliver real believable benefits to clinic. The clinic management system should aim to provide more accuracy and easy usability to streamline sales and administrative functions.
Thus, implementing ZOHO CRM to manage operations at their clinic was the most suitable option to make their life easy. This smart and efficient healthcare CRM system take care of operational aspects so that the clinic can concentrate on enhanced patient care.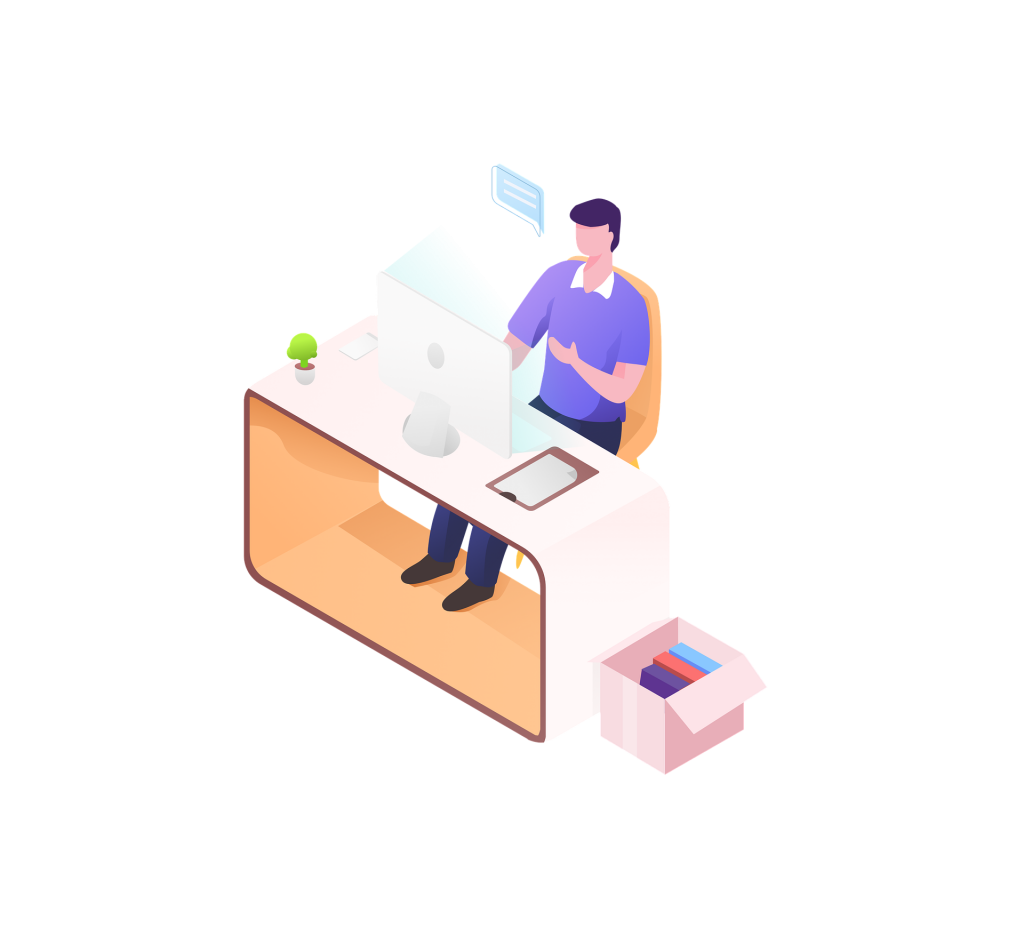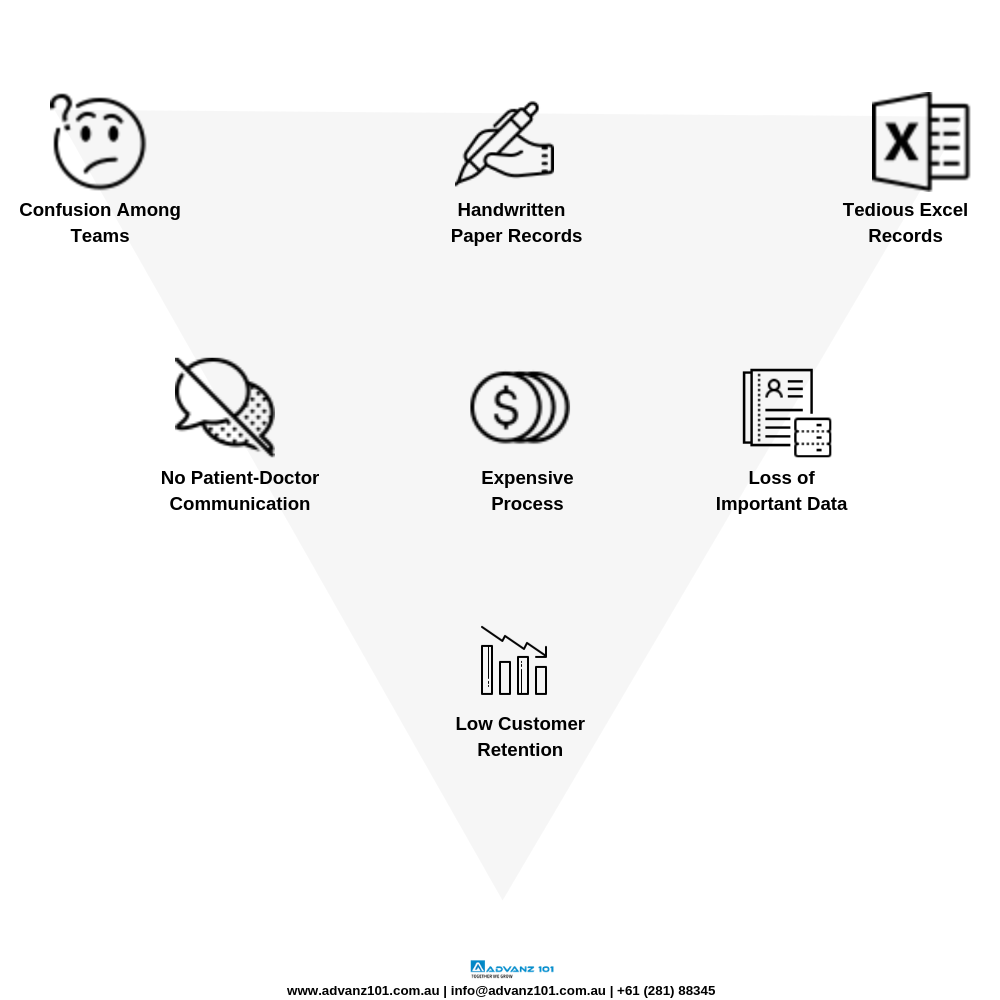 Challenges with Their Business Process
In existing manual system all the patient details, doctor availability details, treatment, follow-up data, and medication history is maintained

on paper or in an excel sheet

.

There are no trail of conversation between patients and doctors.

Manual process makes the reporting and sharing of information very time consuming, difficult, unproductive, and expensive.

Frequent loss of

clinical

data, improper communication leading to chaos.

Challenges with email systems, staff make handwritten notes and then update in excel sheet making the process and clinic operations difficult.
After analysis, several issues were filtered out and addressed. One such major problem was that the manual excel sheet based system lacked scalability factors at certain points. On discussion with the client, the team suggested implementation of Zoho CRM for better patient and team management.
How our zoho experts helped them?
Our experienced Zoho CRM experts at Advanz101 implemented Zoho CRM solution that migrated all the excel based information to Zoho platform and captured & stored all patient related information along with automated emails, schedulers and workflows. The operation of the system connects to all the concerned teams within the skincare clinic and fits into all kinds of hardware platforms including mobile. Our team created a mobile and cloud-based customer management system solution that takes care of:
Patient side of functions too like request appointment through web or mobile interface.
Manage treatment and medication, follow-up reminders. Patient receives alerts, notifications & reminders on timely manner
Tracking of historical record of patients with medical prescriptions, previous medical treatment received etc. were implemented in Zoho CRM
Integrated Twilio with Zoho CRM for SMS and Calling functionality
Created organized appointment scheduling functionality
Results after zoho implementation at their clinic
Least manpower requirements

Instant information retrieval and timely treatment decisions

Access to previous medication or treatment history

More collaboration between patient & doctors

Enhanced administration control and improved business profitability

Streamlined business operations and instant messaging or chat options

Better patient management and eliminated reliability on excel sheets

Zoho CRM implementation improved & resulted in increasing the general efficiency & retentions of large number of patients

Appointment follow-ups is automated and hassle free

Doctors can have a glance at the entire history of the patient in clicks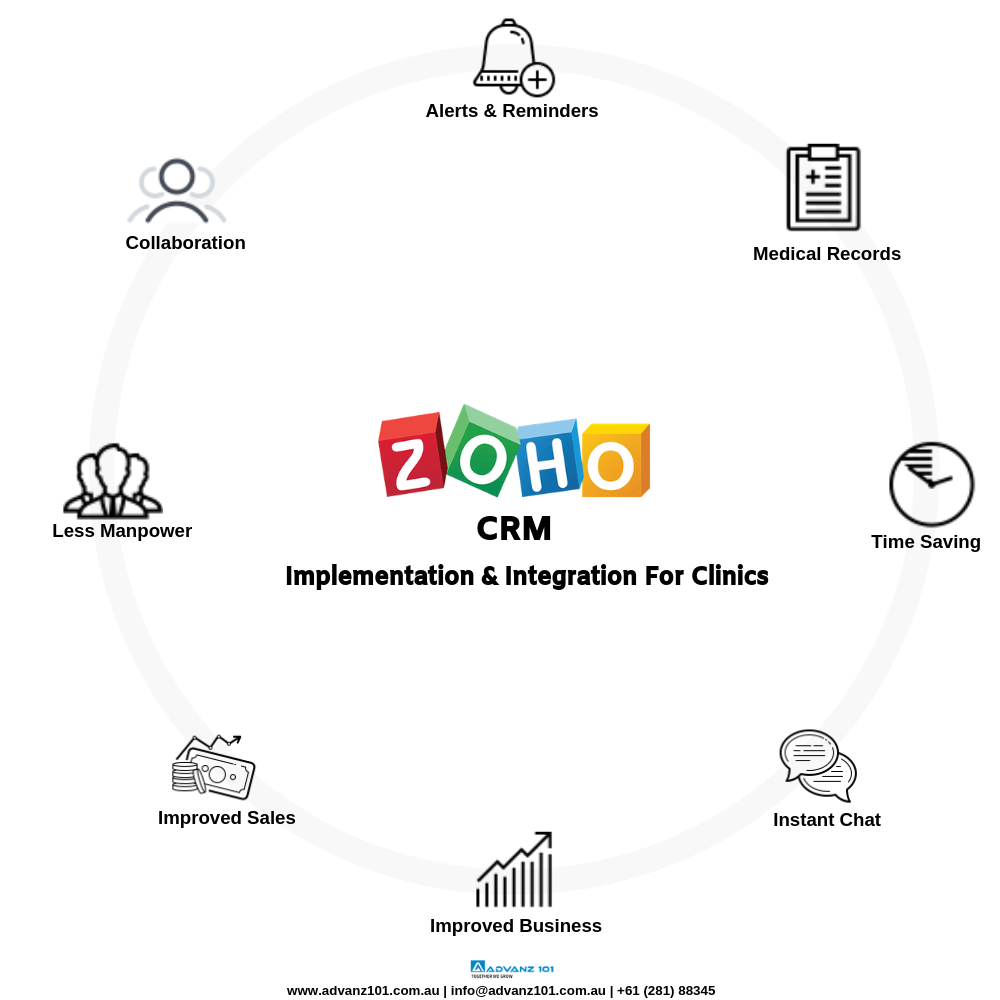 Work was performed quickly and efficiently with very prompt and clear communication. I would have no hesitation in using the service again.
Be it a Small or big business. Everyone loves zoho as healthcare crm
Consult With Our Zoho CRM Experts Now!