In order to run a successful business, the most important element to consider is the satisfaction of your customers. And what can be a better way to achieve customer satisfaction than to have a strong business relationship with them. Small businesses often work towards putting all the effort in working first rather than engaging with clients from the beginning. But in order to keep your business running in the long run, you must keep your clients engaged with your brand.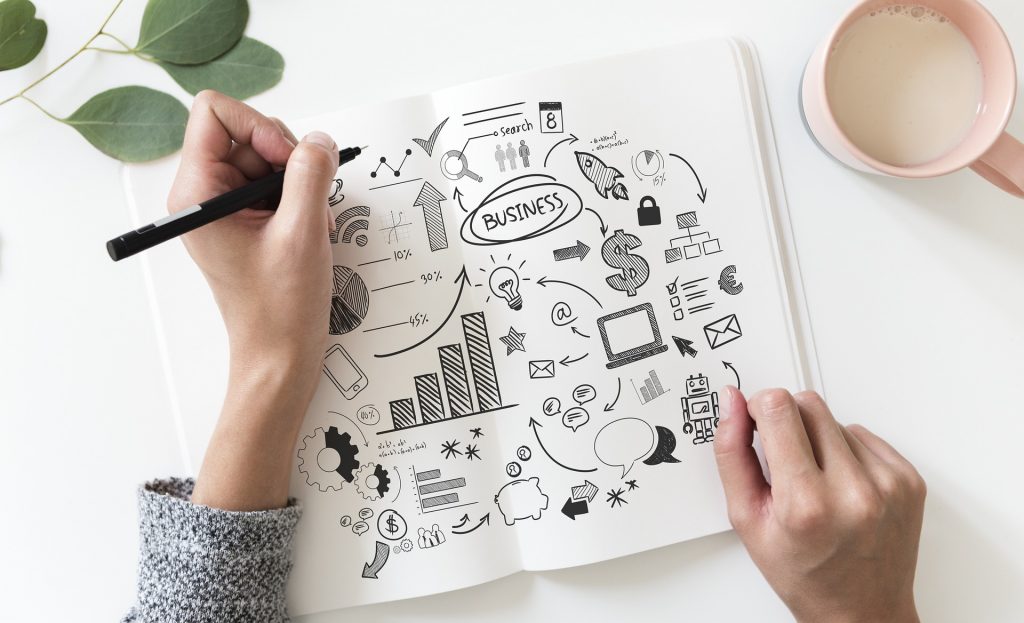 Being the owner of a small business, you must realize the value of providing high-quality service in the competitive markets. Your customers can help you achieve this via honest feedbacks and interactions with your teams. Customer Relationship Management (CRM) is a software solution that'll help you stand out in the competitive market by making your business processes more efficient and easy. Through CRM, you can engage with your customers directly, deliver better experiences and achieve higher business growth.
What is the difference between ERP and CRM?
When it comes to CRM systems, people often confuse it with ERP. While both these systems are similar in some aspects, they are quite different in many other aspects. They are both used to follow different areas of a business in order to increase productivity and profitability.
An Enterprise Resource Planning (ERP) system is a comprehensive software that combines and uses all aspects of a business's operations. It is often customizable and can be configured according to your specific business needs. Some common features of ERP software include accounting, CRM, manufacturing, inventory and business intelligence, etc.  
On the other hand, a CRM, as the name suggests, is a system used specifically to manage customer relations in the overall life cycle of a customer. This system is majorly used by the sales and marketing teams and some of its features are customer service and support, sales force automation, channel management, etc.
While both ERP and CRM serve the purpose of increasing the profitability of an organization, an ERP system does this by reducing overhead costs by making processes more efficient. A CRM system aligns the sales and marketing team together with business functions and increases the overall profitability of an organization by helping it to increase the sales.
What are the types of CRM?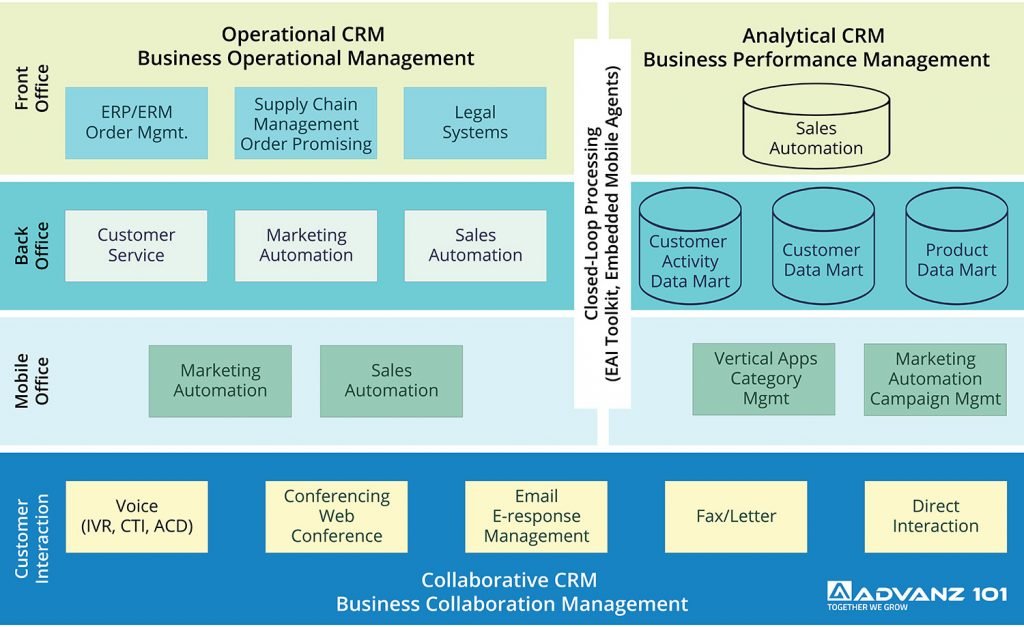 Not all organizations need to resolve a single purpose. Therefore, different organizations have different needs and problems according to which the CRM systems they choose for their business  functions are different. Different types of CRM systems are:
Operational CRM
An operational CRM system is used by businesses for their processes, in order to match the requirements of their end-customers efficiently. These processes could be sales, marketing or service automation. The idea behind using operational CRM is that it is customer-centric. Operational CRM allows businesses to acquire more leads and convert them into contracts for providing better services.
Analytical CRM
As the name suggests, an analytical CRM collates customer data and provides analysis based on this data for different teams in an organization. This analysis is then used by the top management and teams like sales, marketing, and support, to serve customers in a better way by eliminating the hurdles in the process. An analytical CRM performs the function of data analysis activities and provides improved insights about the organization's status. By using this type of CRM, all business teams can analyze the requirement of their target customers and improve their functioning accordingly.
Collaborative CRM
A collaborative CRM allows multiple teams of an organization to collectively collaborate with each other by sharing the information related to the end-customer. Due to this functionality, different teams of a single organization can work to improve on customer experience and identify the missing elements in their processes. A collaborative CRM performs the function of uniting teams together and improve the business quality for their customers by reducing the losses.
Cost of CRM implementation
As different CRMs serve different purposes, it is typical to put forward one fixed cost for the implementation of a CRM system. Some CRM systems offer a free trial option, which gives you a brief understanding of how it works. If it suits your business needs, you can purchase its paid version. Broadly categorizing, a CRM system works on two different types of pricing models i.e. the subscription model (used on a rental basis) or licensed model (to be purchased).
The subscription model often works on a monthly payment basis and the cost is calculated according to the number of users in the organization. In order to calculate the cost of such CRM, you need to multiply it by the number of employees using it in your organization for final monthly investment. On the other hand, the license fee model works on the term of buying the CRM system and operating it on your own which gives you more freedom.
Majority of CRM providers offer multiple packages such as basic package, premium package, etc. The basic package includes the common functions of a CRM while by choosing the premium option, you can get access to advanced features like custom reports, and automation of sales processes.
CRM Can Help Winback Your Customers!
In what situation a company needs requirement of CRM?
Small size businesses often ignore the need for a CRM in their initial stages as they have few employees and even fewer customers. Eventually, as the business grows, the data and volume of work increases and all the functions turn out to be chaotic by then.
Every business that aims to grow must have a CRM system in place right from the beginning stages. Waiting for the right time is never an option in such cases as there is no right time.
Having a CRM system for your business will allow you to track your customer lifecycle from the early stages and will allow you to make amends as and where needed. You will be able to keep a track of the source from which your customer comes, their interactions and status of their conversion.
You must get a CRM system for your organization immediately if:
Your business data is expanding but you have no clear way to manage it

You are missing new customers and other companies are still increasing their customer base

Your sales and marketing teams are not able to utilize the scattered data properly

Your follow up messages are not making any difference

Your customers are often complaining about their problems but you are still not able to identify the gaps
What can CRM do for my business?
An effective CRM system can help your business scale up to higher levels and improve customer satisfaction levels. The primary feature that a CRM can offer your business in synchronized organization of your sales and marketing process which will eventually lead to better lead management.
Apart from this, your internal teams can be benefited through CRM by avoiding any kind of confusion among themselves. You will also get to analyze customer journey and gather insights from them, which will help you improve the way your organization works.
A CRM system will also allow your sales teams to target the customers in a better way by analyzing their pain points instead of aimlessly shooting emails or cold calls. Your marketing teams will also be able to check the performance of their campaigns and effective lead sources for your business.
Finally yet importantly, with a CRM system in place, you will be able to utilize automation better for your business and make time for more important tasks.
How long does a CRM implementation take?
There is no fixed timeline for implementing a CRM software system for your business as it depends on many factors such as your business goals, your projects, software that you are using, etc. In order to get a clear and concise answer to this question, you need to refine your requirements clearly and share them with your CRM implementation partner.
In order to understand and define your own requirements in the first place for a CRM implementation estimate, you need to have an understanding of different stages of the project such as planning, implementation, integration, customization, testing, training and measuring. Once you clearly define your basics, you can take the help of your CRM partner to help you with the implementation part. The following factors will help you understand the successful deployment of your CRM system better:
Requirement analysis

Project objectives

Scope of the project

Installation and customization of CRM

Data gathering and formatting

Training for admin and users

Documentation and system reviews
Where can a business get CRM implementation help?
In order to find a CRM that fits your business needs perfectly, you can choose from a wide variety of options available online. While enterprises and big business have multiple teams working on CRM implementation specifically, this can be a bit of a challenge for small business.
Nevertheless, once you figure out your requirements for a CRM considering all the factors, you can simply filter down from the choices of CRM available in the market. CRM providers have their own teams working on providing dedicated support to their clients. In case you face any trouble while implementing a CRM for your business, your chosen CRM partner can help you get through these pain points and utilize the software better.