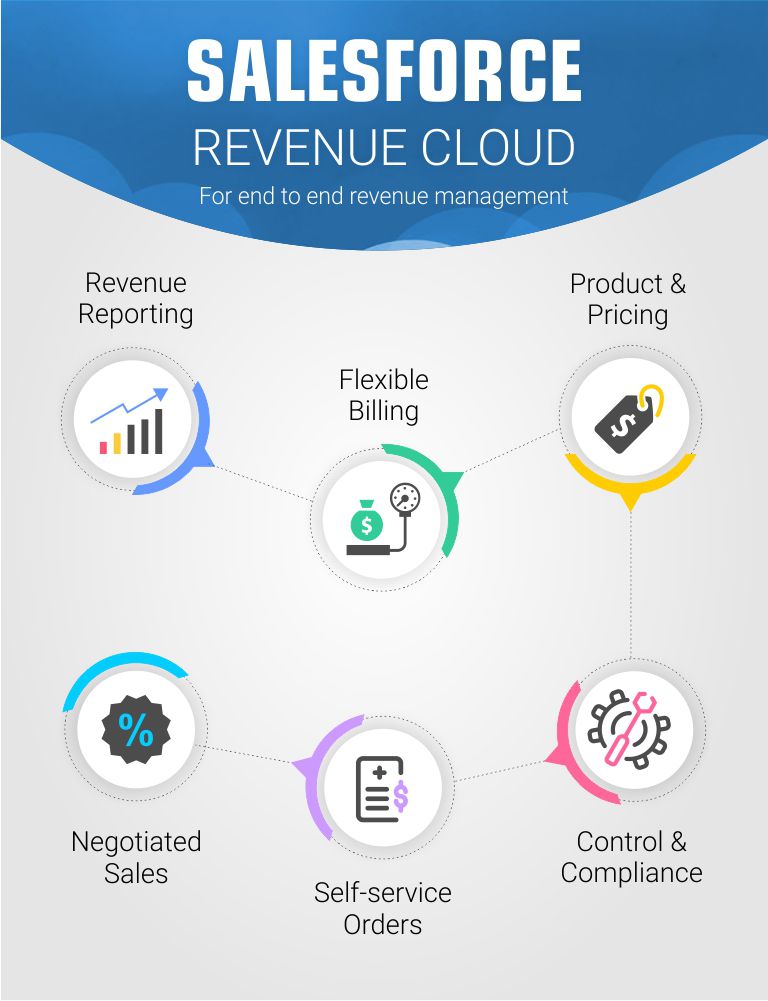 Unify your Revenue Processes with Salesforce Revenue Cloud
Salesforce Revenue Cloud is an end-to-end revenue management solution based on the Customer 360 platform. It helps streamline a business' entire revenue lifecycle and provides an unmatched B2B buying experience. With customers twice as likely to choose a supplier that delivers a smooth digital experience, the Revenue Cloud Salesforce equips businesses to do exactly that and more.
It is responsible for making the purchase process swift and easy by allowing customers to easily switch between different buying channels. Even the sales teams and channel partners get the right tools with Revenue Cloud Salesforce to sell fast. The entire complex process of Configure, Price, and Quote is carried out with ease.
Make Customer the Nucleus of your Business
Revenue Cloud ensures that the customer is put at the center of an enterprise by
Unifying revenue processes and data
Automating the entire product-to-cash journey
Giving customers due flexibility across various buying channels and monetization models
With Salesforce Revenue Cloud in place, a business can be sure of the following
Bringing together the combined efficiency of CPQ, Billing, Subscription Management, Sales and Service Cloud for consistent revenue growth across all channels.
Quickens the buying process and accelerates new revenue streams.
Being an important part of the Customer 360 platform, Revenue Cloud allows businesses of any scale to connect their sales, partners, operations, and finance teams for creating a singular source of truth for all transactions.
Serves as a central data repository for all revenue streams from purchase to renewal to revenue recognition.
We are a Salesforce Revenue Cloud Services and Solutions provider for businesses in Australia and offer the entire gamut of end-to-end Revenue Cloud services
Salesforce Revenue Cloud Development
Accounting and Billing Management
Salesforce Revenue Cloud Integration
Revenue Cloud Maintenance and Support
Partnership Relationship Management Solutions
Salesforce Revenue Cloud 101
Can and How does Revenue Cloud work with Sales Cloud?
Yes, Revenue Cloud is compatible with Sales Cloud as both of them are located on Customer 360. It helps manage the entire revenue cycle, deliver seamless and modern buying experiences, and collates customer experiences on Customer 360.
Can and How does Revenue Cloud work with Service Cloud?
Yes, Revenue Cloud is compatible with Service Cloud as both of them are located on Customer 360. It unifies the end-to-end customer experience by interlinking every touchpoint all the way from buying, paying, renewing to any ongoing service or engagement on Customer 360.
How can Subscription Management scale my business?
Subscription Management is an essential feature of Salesforce Revenue Cloud and it gives customers the flexibility to make purchases on their own across any channel they want along with any monetization model. It helps create new revenue streams by activating one-time or subscription products-based monetization models. Customers also get equipped with self-service that allows them to buy, renew or upgrade on their terms which consequently builds customer loyalty.
As any business grows, it does the need to manage an ever-increasing number of subscriptions. Salesforce Revenue Cloud is a...
Read More
Drive Predictable Growth with our Salesforce Revenue Cloud Solutions