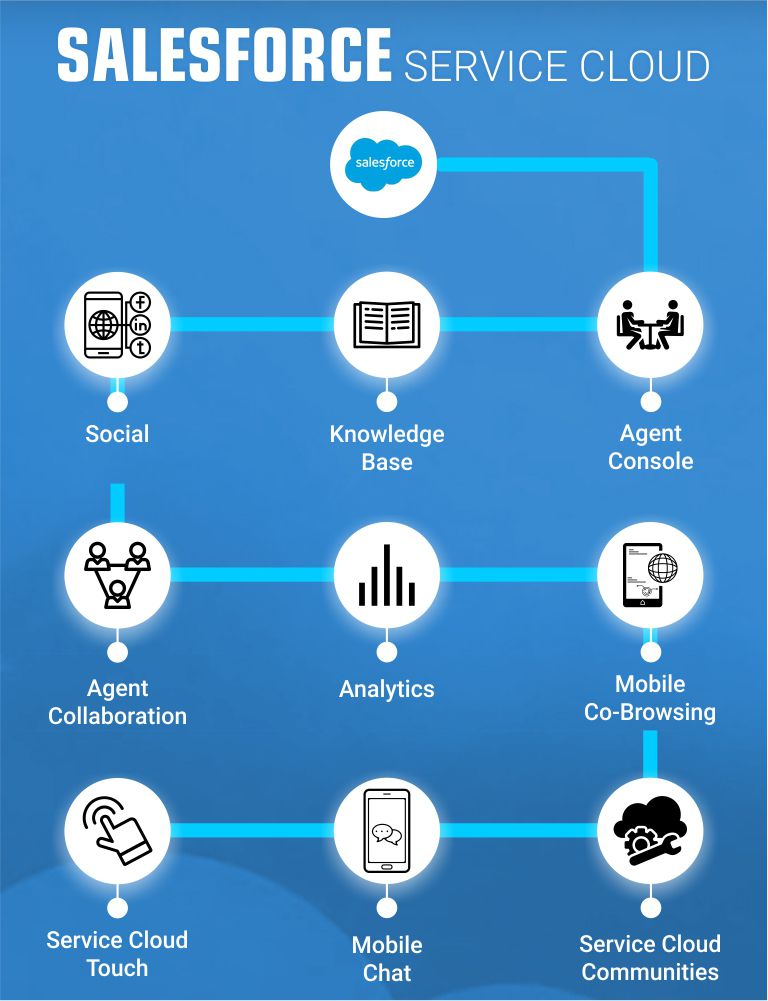 Upgrade Customer Experiences with Salesforce Service Cloud
Service Cloud Salesforce is essentially built on Salesforce Customer 360 and helps businesses provide smarter, faster, and personalized services to their customers. Salesforce Service Cloud helps automate day-to-day service processes, streamlines customer service workflows to transform the customer service agent experience entirely.
With Service Cloud, connecting with customers across multiple touchpoints and channels from any device and any place is far easier and more doable now. Salesforce Service Cloud can be configured as per the needs of a particular industry, call center, or a customer help desk.
The key to Service Cloud unlocks

Faster, Smarter Customer Service – Omni-Channel Support – Increased Agent Productivity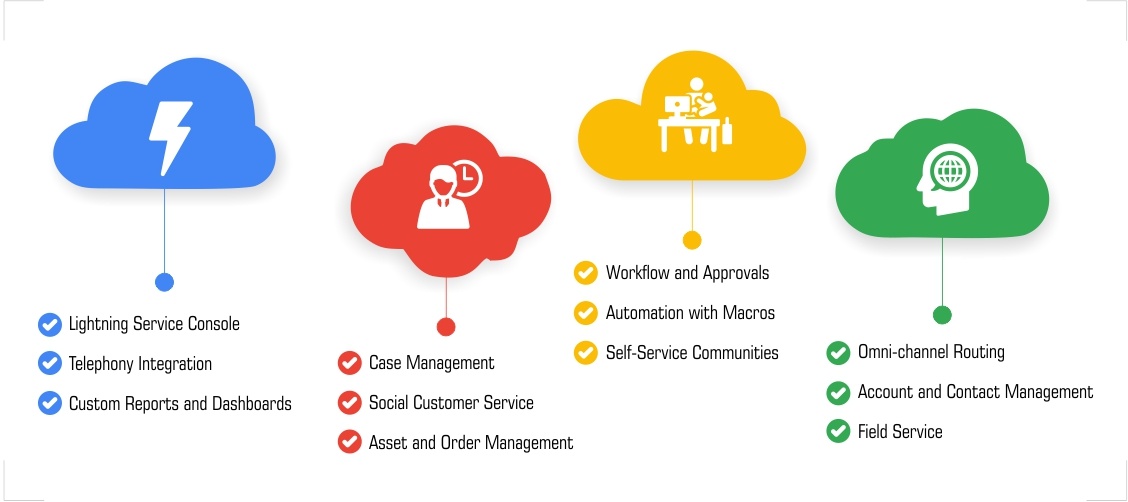 Features Enhancing Customer Service
Service Cloud implementation brings out the following functionalities for businesses to deliver industry-leading customer service
It transforms your call center into a holistic customer engagement center, helping agents deliver support from all channels
Eases self-service by reforming the customer portal with tools that enable customers to self-diagnose their issues
New customer patterns or trends can be discovered via insights that can be turned into engaging customer experiences
It also allows access to vital information for employees to deliver at above-average productivity levels
It allows swift delivery of in-app services with Snap-ins that allows embedding Service Cloud features in native apps and web page
Case Management – a feature
Automation – a feature
Self-Service – an add-on
Field-Service – an add-on
Digital Engagement – an add-on
Digitize the Contact Center – a product
For Salesforce Service Cloud Services in Australia we provide the following services
Salesforce Service Cloud Development
Salesforce Service Cloud Implementation
Salesforce Service Cloud Optimization
Salesforce Service Cloud Custom Applications Development
Salesforce Service Cloud 3rd Party Integrations
Salesforce Service Cloud Custom Report Development
Salesforce Service Cloud 101
How can the Salesforce Service Cloud help my business?
Salesforce Service Cloud helps make the customer service smooth by giving customer agents the tools to deliver faster and more productively which not only improves customer satisfaction but also reduces costs. This increases customer loyalty, retention, and satisfaction.
How does Salesforce Service Cloud multiply agent productivity?
The Salesforce Lightning Console, an intrinsic part of the Service Cloud was designed keeping in mind agent productivity. It has features such as email to case, skills-based routing, macros, and milestone tracking, to give agents the tools to quickly and efficiently respond to customers on any and all channels.
Which Service Cloud edition is appropriate for my business?
There are a variety of ways to customize Service Cloud, and cloud service providers in Australia work with businesses to build a complete CRM customer service solution that addresses business needs, is scalable, and fosters innovate. Beginning with Service Cloud Enterprise Edition, it is a comprehensive solution that delivers the Lightning Console a multichannel view of cases, CTI integration, call scripting, knowledge management, developer tools, and more. And with Unlimited Edition, you'll receive access to unlimited online training, 24/7 toll-free support, and over 100 admin services. With Performance Edition, businesses can maximize performance across service and sales because it is a fully integrated sales and service solution built on the Salesforce.
Deliver Customer Satisfaction with the Most Connected Platform