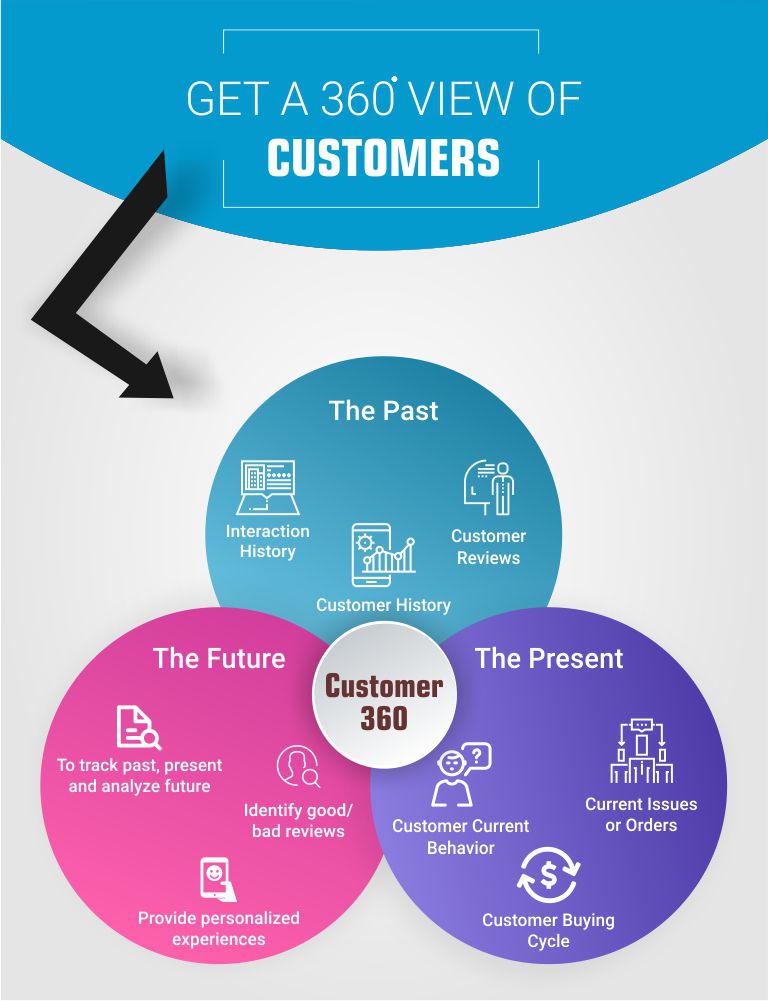 Customer 360 Solutions for Hyper-Connected Teams
Salesforce Customer 360 has received the coveted title of being the world's first real-time CRM and this holds 100% true because it is a complete Salesforce products and software suite that connects commerce, marketing-sales, IT, operations and every other team in an organization/business/company around every customer.
Our Salesforce 360 solutions are ahead of the curve with the hyper-efficient and real-time customer data platform – Salesforce Genie. This Genie makes sure that every customer interaction is intelligent, automated, and in real-time, while feeding teams with relevant insights and centralized data. 
Implementing Salesforce Customer 360 opens up endless possibilities for a business by having the most suited app for every phase of a customer's journey in place, right from the point of a prospective lead to a loyal customer. A look at some major advantages
Hyperconnectivity of business and customer data from any source

Seamless, personalized, and

an actively engaging customer journey

 

Easy access

to a

nd integration with a

multitude of apps

like Einstein AI,

Mulesoft

, Tableau,

etc

 




96% of customers who used more than one Customer 360 app have been reported to have met or surpassed ROI expectations
We have a proven record of implementing Customer 360 with user-specific solutions. As our services are built on the robust platform of Salesforce, we help businesses with customized solutions and also help them build their own apps and workflows. The following services are offered with seasoned expertise
Data Governance

Custom application development

 




Lightning platform development

 




Unifying the customer's profile

Data Strategizing and Engineering

 




Master data Management

Data Warehousing and Business Intelligence services
We bring together and integrate customer data from all touchpoints across the length and breadth of a business by using Customer 360 Data Manager and leveraging third party systems integration and customization.  
Unify – Segment – Activate Data Across Every Customer Touchpoint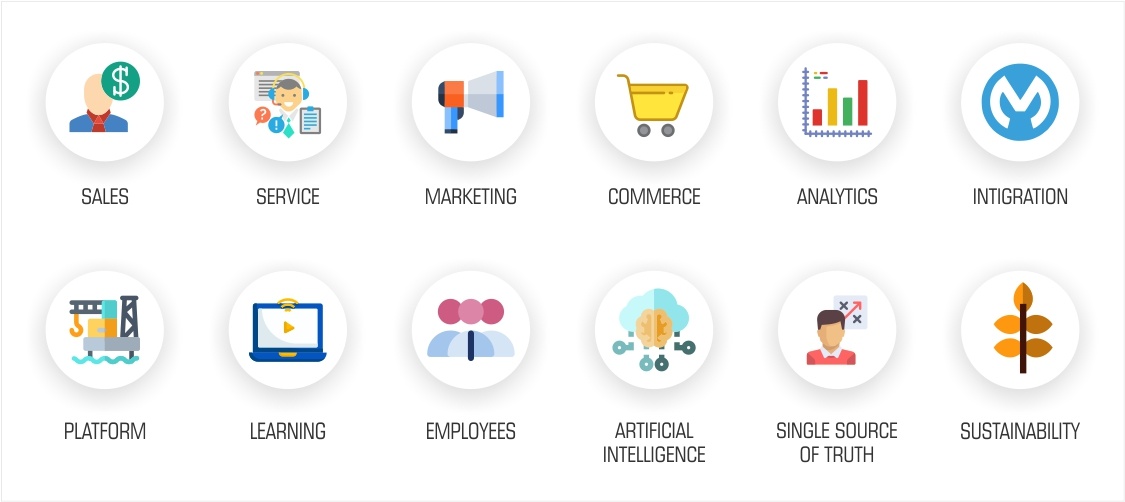 Salesforce Customer 360 - A brief
What is Salesforce Customer 360?
Customer 360 is a tool for unifying data across an entire business/firm/organization. It is made up of all Salesforce products and integrated third-party apps, giving all teams a single and shared view of all leads and customers. Each team has the exact information to collaborate better and give his best.
How does Salesforce Customer 360 increase the bottom line?
The revenue undergoes consistent growth because Customer 360 improves team efficiency, boosts customer engagement, enhances ease of use, and enables hyper-personalized targeting, messaging and overall servicing.
What products does Salesforce Customer 360 bring together?
| | |
| --- | --- |
| Sales Cloud | customer relationship management (CRM), sales forecasting, lead management, price and quote, etc. |
| Marketng Cloud | defining customer journeys, email marketing, social media management, customer data analytics, personalized messaging, and more |
| Service Cloud | multi-channel field service, customer self-service with Al-powered chatbots, knowledge base, and seamless field service |
| Commerce Cloud | customer-centric e-commerce journeys, personalised customer engagement, omnichannel support, etc. |
| Tableau Analytics | business intelligence, data visualisation, Al-enabled insights, predictive analytics, governance |
| Platform | customisations, workflows, app development, etc. |
| MuleSoft | connectors, APIs, reusable codes, etc. |
| Slack | channels, reactions, tagging, video huddles, app integrations, and more |
Create lasting Customer Experiences with Salesforce Customer 360