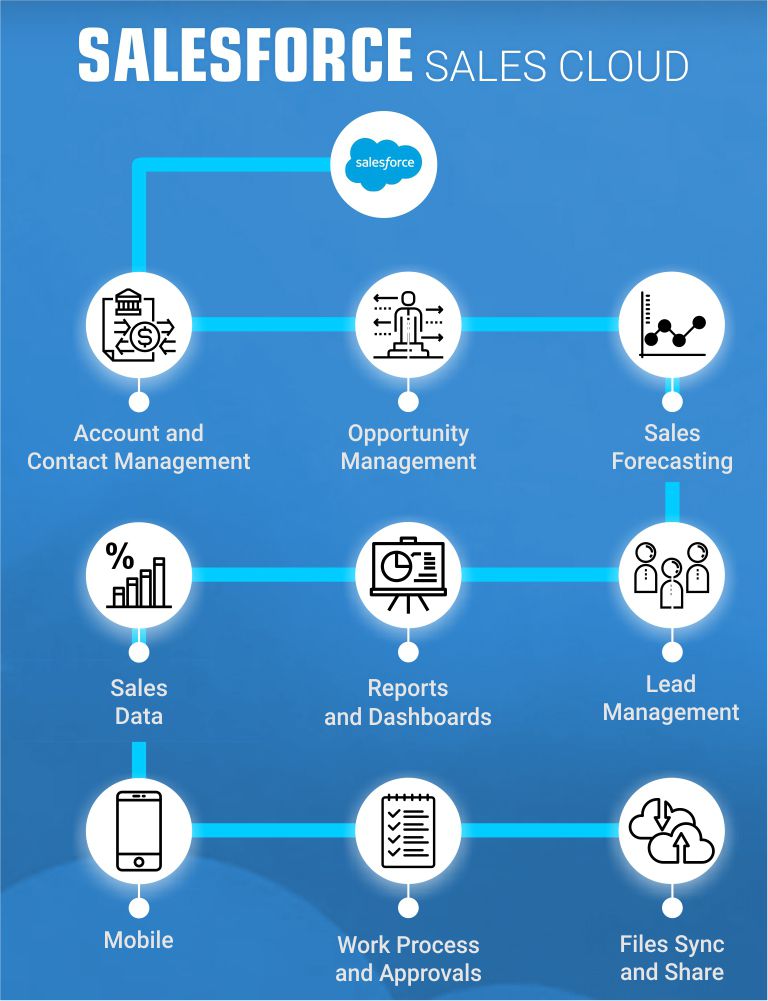 Elevate Every Sales Channel with Salesforce Sales Cloud
Sales force sales cloud maximizes a business' sales efficiency with the best automation and intelligence. Sales representatives gain speed and agility to carry out their functions as they have all the data they need at their fingertips to clock more revenue. The sales efficiency also gets improved immensely with teams winning more deals and customer relationships getting stronger.
Every stage of the sales process gains due speed, from finding new customer, growing accounts to closing deals faster irrespective of where the team is situated physically. The 360-degree visibility into every customer at all stages leads to the most meticulous customer communications.
Contact Management Software
Mobile CRM Solutions for Business
Pipeline and Forecast Management
The Key to Sales Cloud Unlocks

More Leads – Increased Productivity – Ease of making Insightful Decisions – Swift closure of More Deals

As a Salesforce Sales Cloud consulting partner, we make sure that sales teams across businesses are able to sell more than ever with the ultimate sales platform. The hallmark benefits of the sales cloud are
Significant jump in sales productivity
Faster sales deals closure
Predict revenue growth
Teams can sell from anywhere, anytime
Helps expand top-line results on every sales channel
Intelligent insights to propel every stage of the customer buying journey
Customer touchpoints get insight rich with real-time data
Our Salesforce com sales cloud solutions include the following
B2B or B2C Account and Contact Setup
Opportunity Setup Ecosystem
Lead Management Ecosystem
Sales Analytics and Reports
Forecast the Sales Cycle
Campaign Setup and Personalization
Social Listening and Community Setup
Data Migration and ETL (Extract-Transform-Load) services
Salesforce Sales Cloud 101
Workflow Automation and Process Management optimize all business processes in a deal cycle. Automated business operations and approval processes bring down the time spent at every stage of the consumer conversion cycle, increase efficiency, and improve collaboration among all team members, and thereby reducing the operations spend.
Opportunity Management, Sales Automation, Forecast Management, and add-ons like revenue cloud, sales engagement and territory planning.
Salesforce has introduced 'Sales Cloud Unlimited' that uses AI and automation to bring together everything sales teams need in one place for driving consistent growth. Also, with Sales Cloud for Slack, industry-tailored Revenue Intelligence, and Subscription Management, every sales team is fully equipped to score big on their sales targets.
Unlocking the Power of Salesforce Sales Cloud: 7 Ways to Maximize Its Potential
Read More
Close Deals Faster with our Salesforce Sales Cloud Solutions